Fujairah's landscape enhanced by Le Meredien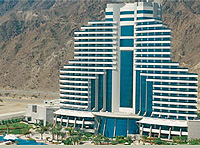 In a move to enhance the environmental offerings of Fujairah, Le Meridien Al Aqah, the award winning paradise on the east coast has initiated significant developments to extend the beauty of the picturesque paradise beyond the resort's boundary.
The resort has initiated a plantation drive of around 100 coconut trees at the beach area of the resort, making it the first coco-beach of UAE, along with development of the barren land around the property in an effort to spruce up the greenery and landscape in the area.
Commenting on the initiative, Mr. Patrick Antaki, General Manager, Le Meridien Al Aqah Beach Resort said, 'As the first premium resort of Fujairah, we have incessantly aimed at offerings our guests top quality facilities and services coupled with a perfect ambience that reflects the emirate's natural reserves, be it relaxing by the beach, mountain climbing or adventuring towards scuba diving and snorkeling. We are confident that these environmental projects of the resort will reinforce our commitment of providing the ideal setting in and around the resort's premises.'
Le Meridien Al Aqah Beach Resort has been actively involved in promoting tourism to Fujairah whilst participating and supporting various initiatives to develop and preserve the resources the emirate presents. In its two years of operations, the resort has partnered with a variety of environmental initiatives including Clean Up Arabia along with Emirates Diving Association and Emirates Environmental Group (EEG) where representatives from the hotel have been involved in cleaning the beach areas of Fujairah to maintain the environment.
Website: http://www.lemeridien.com
We accept Guest Posts