The Fujairah Petroglyphs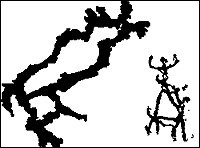 The Fujairah Petroglyphs are rupestrian carving illustrating the pantheon and battles of ante-islamic populations in this region. They have been studied by the Archaeological Survey of Fujairah, Groupe de Recherches en Archéologie Préhistorique - Departement of Anthropology, University of Geneva - within the scope of a program of archaeological cooperation between the Switzerland and the Fujairah Emirate.
The following are some of the interpretations of the petroglyps of Fujairah:
• The humped cattle (Bos indicus) would have his origin in the steppes of the big salt desert of Iran, near the 4th millennium BC. It migrated in Mesopotamia and Africa through Arabia in the 2nd millennium BC, in the context, in U.A.E., of Wadi Suq (Bronze Age).
• The domestic dromadary (Camelus dromedarius) would come from southern or central Arabia where it would have been domesticated during the 4th millennium BC in a Neolithic context.
• The snake depicted by a swaying body with a globular head is found in the engraved decors on the ceramics of the Iron Age in Oriental Arabia. In the Arabic mythology, the snake is associated with the notion of giving life and fertilizing. El-hayat is the name for life and El-hayyah, for the snake.
• The horse representation causes more problems. Historically, it seems that semitic populations has used less horses than populations of the south-west Asia in the 1st millennium BC. The first bone remains attesting the presence of the horse in the Oman peninsula are found in ante-islamic contexts. The cavalcade depicted could reflected the islamic military incursion in still pagan populations (military conquist in 632 BC).
The graves patina suggesting an ancient origin, we can consider that the petroglyphs are the product of ante-islamic populations, probably of the Iron Age (1350 - 300 BC), without knowing of writing. Writing appears with recent ante-islamic cultures of the Oman Peninsula who replace in the 4th century the Iron Age tribes.
We accept Guest Posts